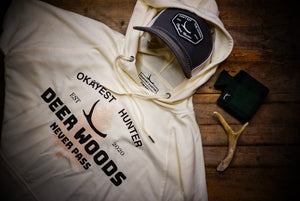 CFS
Deer Woods Lightweight Hoodie
Sale price Price $49.00 Regular price $49.00 Unit price / per
The deer woods are a sacred place where deer hunters go to recharge their batteries and get back to neutral to cleanse the soul. It's a place not far from hunt camp where memories from years past come to life as stories are shared over a cold one off the tailgate down some old logging road.

Feel right at home in the deer woods with the Okayest Hunter cozy as heck lightweight deer woods hoodie.

Great hoodie
Love this hoodie and what it stands for! Fits great and super comfortable!